Panhandle Rural Planning Organization (PRPO)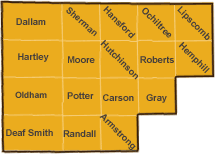 In early 2010 the Texas Department of Transportation released proposed planning rules that included a definition for "Rural Planning Organizations" (RPOs). These RPOs were to be recognized as a group of local officials from rural areas of Texas with the purpose of providing local input into the rural TXDOT decision making process. In 2009 the PRPC Board of Directors passed a resolution indicating their support for the RPO concept and expressing an intent to support an RPO for the Panhandle Region at such time that RPOs were recognized in the State of Texas. In response to the proposed planning rules from TXDOT the PRPC Board of Directors created the Panhandle Rural Transportation Planning Organization (PRPO) for the 17 Panhandle Counties included in the Amarillo TXDOT District. In August 2010, the TXDOT Board of Directors accepted the planning rules that define and grant authority and responsibility to RPOs in the State of Texas.
PRPC Staff visited each County Judge and discussed the county's local rural transportation needs, desires, and futures. Subsequently, 16 of the 17 counties passed resolutions authorizing their participation and support in the PRPO including the active membership of each of the County Judges. In their first two meetings, the PRPO developed bylaws that would expand the PRPO membership from only County Judges to also include 8 municipal representatives.
At each of the PRPO meetings a voting quorum has been present along with the Amarillo TXDOT District Engineer or his designee and his staff, Amarillo MPO members, and members of the public. The PRPO is serving as a forum for local input into decisions ranging from long and short range project prioritization in the region to regional road closure procedures during inclement weather.
The PRPO has established a meaningful dialog between our local communities and the Amarillo TXDOT District and continues provide to local level input into regional decision making processes. The PRPO actively monitors state legislative and agency issues that will affect the region's transportation infrastructure and funding.
Contact Information
Kyle Ingham
Local Government Services Director
Email: kingham@theprpc.org
Phone: (806)372-3381
Fax: (806)373-3268
Close
PRPO Governing Board/Advisory Committee
| Name | Representing |
| --- | --- |
| Wes Ritchey, Chair | Dallam County |
| Don Allred | Oldham County |
| Kit Black | TxDOT |
| George Briant | Hemphill County |
| Terri Carter | Sherman County |
| Christy Dyer | Randall County |
| Aldo Gallegos | Cactus |
| Ronnie Gordon | Hartley County |
| Cindy Irwin | Hutchinson County |
| Blair Johnson | TxDOT |
| Charles Kelly | Ochiltree County |
| Brandon Knapp | Perryton |
| Dan Looten | Carson County |
| Travis Muno | Amarillo |
| Chris Porter | Gray County |
| Hugh Reed | Armstrong County |
| Rowdy Rhoades | Moore County |
| Micky Simpson | Lipscomb County |
| Garrett Spradling | Borger |
| James Stroud | Dalhart |
| Nancy Tanner | Potter County |
| Rick Tennant | Roberts County |
| D.J. Wagner | Deaf Smith County |
| Benny Wilson | Hansford County |
| Russell Washer | TxDOT |
Close