Groundwater Management Area #1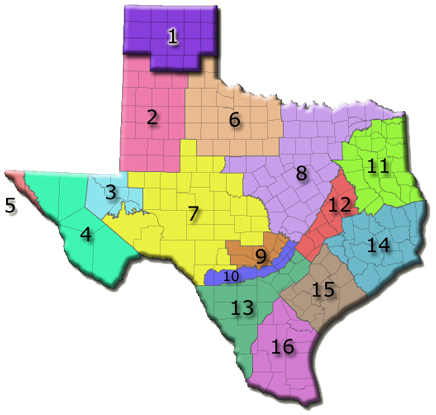 In 2003, the legislature passed HB 1763 creating Groundwater Management Areas (GMA) throughout the state. The GMAs are comprised of members from each of the Groundwater Conservation Districts located within the GMA boundaries. The GMA in the Texas Panhandle has been labeled GMA#1. Since the time of their creation the GMA#1, in the Texas Panhandle, has had 25 meetings. In 2007, the leadership of the GMA has recognized the need for more continuity in the process and a more efficient record keeping system and chose to contract administrative services through PRPC. Local Government Services (LGS) staff posts each of the GMA#1 meetings, maintains the historical record of GMA#1 meetings, and assists the four involved Groundwater Conservation Districts in communicating with the Texas Water Development Board.
Also in 2007 the Texas Legislature determined that Regional GMAs should have the power and responsibility of establishing the Desired Future Condition of aquifers in the regions that they serve. This power and responsibility granted to the GMAs creates the intersection of the GMA effort and the Panhandle Water Planning Group's efforts and responsibilities. Each GMA is legislatively required to have the Desired Future Condition (DFC) of the major aquifers in their region. GMA#1 adopted the state's first Desired Future Condition in 2009. The next deadline to the establishment of DFC's for the region is May 2016.
The DFC adopted for each major aquifer by the GMA#1 must be incorporated into the 2016 Regional Water Plans adopted by the Panhandle Water Planning Group (PWPG). This will be a significant change from previous planning cycles. The PWPG took this into consideration and incorporated the concepts included in the GMA#1's adopted desired future condition for the Ogallala Aquifer into its 2011 Regional Plan.
The GMA#1 adopted a DFC for the Ogallala Aquifer on July 7, 2009. This DFC includes a 40% remaining target for Dallam, Hartley, Sherman, and Moore Counties in 50 years; 80% remaining in Hemphill County in 50 years; and 50% remaining target in the remainder of GMA#1 in 50 years. This DFC is a large part of the 2016 Regional Water Planning process.
GMA#1 is deep in the process of developing DFC's to meet the 2016 deadline for updates. The 82nd and 83rd Legislature expanded requirements associated with the development of DFC's. It is anticipated that GMA#1 will be meeting quarterly in the coming years.
All GMA#1 meetings are open to the public and follow the Texas Open Meetings Act. If you would like to be added to an interested parties list to receive direct notification of upcoming meetings please see contact information to the right.